The People Behind Paramount Flagpoles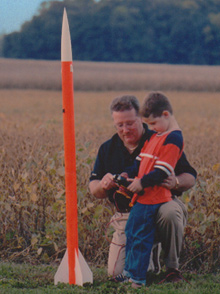 Since childhood I have always been a patriotic person. My father impressed upon me very early what a great nation we live in and what it meant to be an American. Like many other young boys I was very proud to be involved in Cub Scouts and later was honored to achieve the rank of Eagle Scout. My father having been a Korean War Veteran and the values I was taught for all of my childhood experiences taught the values of God, Family and Country very early in life.
I am not sure at what instance in my life I adapted such and interest in our nation's bird, the Bald Eagle. I do recall a moment in time while on a scouting event that many of us had an opportunity to see an eagle in the wild, capture a fish and return to it's nest to feed their young was a magnificent experience.
Today, I have a fascinating collection of Eagles in my office and my home. It is difficult to conceive that what has become our national symbol at one time was very much in threat of extinction. The bald eagle was chosen June 20, 1782 as the emblem of the United States of American, because of its long life, great strength and majestic looks, and also because it was then believed to exist only on this continent.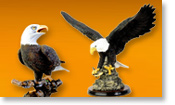 The eagle represents freedom. Living as he does on the tops of lofty mountains, amid the solitary grandeur of Nature, he has unlimited freedom, whether with strong pinions he sweeps into the valleys below, or upward into the boundless spaces beyond.
It is said the eagle was used as a national emblem because, at one of the first battles of the Revolution (which occurred early in the morning) the noise of the struggle awoke the sleeping eagles on the heights and they flew from their nests and circled about over the heads of the fighting men, all the while giving vent to their raucous cries. "They are shrieking for Freedom," said the patriots.
Our Unique Story Started with A Simple Idea
Because of my love of my country, the manner in which I began my business Paramount Flagpole Company is another very unique story within itself. In 1990, I wanted to display an American Flag on a flagpole in my lawn rather than the small one mounted on a six-foot pole and attached to the brick on our home. I knew that I did not want the typical three-piece metal poles that most people buy for residential use because they either bent or rusted in a very short period of time, however we did not have any other store where I could purchase a better quality flagpole.
So I built my own pole. I purchased a 21' section of 2 ½-galvanized pipe. I knew this would not rust and certainly would not bend. I painted this pole white and installed one of my gold eagles from my collection on top of the pole. I built a pulley system to raise and lower the flag. It was a beautiful display and I was very proud of my efforts. After successfully completing the installation, it was only a short time that the neighbors were coming down and asking me where I got my flagpole. I would be out mowing the grass and complete strangers that were driving by would stop their cars and approach me to inquire where I got my flagpole.
I told my wife that there has to be a lot of people like me that want to have a nice flagpole that would not rust or bend and would not cost more than a few hundred dollars. I told her I wanted to start selling these poles and who knows, this might grow into a business opportunity that would be something to do later, possibly during retirement. Primarily because it would be a lot of fun selling patriotic items to other people who were proud to display our colors.
Established over 13 Years Of Service

As a result of that vision, today we have become this area's only full service flagpole, flag, and accessory dealer. We still sell some of the steel poles, however most of the flagpoles we sell today are aluminum. In addition to providing great products and services to residential buyers, today, we established great relationships with many architect and building contractors and they rely on our firm to furnish the poles for their completed projects.

We have a solid 13-year reputation within our small community. Local and County Government, Business, Schools, Churches, and many others call upon us to furnish them with flagpoles, they rely on us to service their existing poles and replace their flags when needed.

Today, we are a full service dealer with a complete product line of thousands of items with regards to flagpoles, flagpole components and accessories. It is a privilege to drive through our community and see all of the projects we have completed over the years. We see our name on the bronze plaques of the flagpoles that have been dedicated in someone's honor or memory.
Father and Son
I look back and it marvels me today how this company has grown. What started out as a desire to display the American Flag has grown to become a fun and profitable business. The thing that gives me the most pleasure is seeing the effect it has had on my five-year old son. He loves to take the small flags to school on special occasions and give them to his classmates. He loves eagles and the American Flag and always points out to me when he wears his clothing with eagles or flags on them.
He constantly wants to go onto jobsites when he knows that we are going to install a flagpole and raise the American Flag. In fact he insist that he be the one to hoist the flag up with the halyard or winch. I gracefully and proudly accept his request.

Our corporate logo was specifically chosen to combine both the Bald Eagle and the American Flag. In fact the eagle used in the photo is one that came from my private collection. When you see a Bald Eagle in the wild, many words or phrases come to mind i.e., magnificent, awesome, grandeur, inspiring, supreme, sovereign, prevalent etc. In addition to these I also associate the eagle with another inspiring word …"Paramount".. For this reason I chose the name Paramount Flagpole Company for my business name.